Post production services and training for a 360 degree delivery
Workflow analysis and onsite support
Extensive experience in teaching & mentoring millennials


Certified Trainer to ABC, SBS, MTV, Disney & Animal Logic - CATHY VOGAN - offers global solutions for new media production




In the world of body-building, Spot Training means working your weak points to develop them. The keyword in this type of broadcast training is Workflow. It spans across all the programs you use, with the tailor-made objective of facilitating and optimizing your specific productions. This might involve automating repetitive tasks through the creation of scripts or templates; or simply fine-tuning specific software skills for more polished results. Every broadcast professional has the task of continually hoaning new skills, and with a busy schedule, it's easy for gaps to accumulate in one's knowledge-base. A few hours of Spot Training TM might suffice to pump up the workflow again.


Spot Training TM can help your editors, graphists, animators, technical staff and producers. We can also automate and streamline a 360 degree delivery to new media platforms. Services include contextual and in-depth training in APPLE, AVID and ADOBE software. We assist with migrations to new software platforms, such as Final Cut Pro 7 to ProX, Adobe Premiere or AVID. We can also propose you some excellent Motion Graphic solutions for a fast-turnover broadcast environment. For a free consultation, call Spot Training TM on 04 20 976 792 or send us an EMAIL detailing your needs.


If you want training in a particular program, we have a PRICE LIST for that, but the real Spot Training TM is by nature, bespoke, and therefore tailored to your entire working environment. It will vary according to the size of your installation and complexity of your workflows. The Spot Trainer or SPOT OPERATOR is extremely flexible, and can negotiate her presense, services and support over long, short or intermittent periods.



Where do you get it?

You don't need to go anywhere. Spot Training TM comes to you, and is carried out on the spot ! It adapts entirely to your needs, and can include education, consultancy or assistance with challenging production tasks. Of course The Spot Operator not only teaches it but does it! Check out our SPOT POST PRODUCTION services, where you can view our illustrious Showreel...




Cathy Vogan trained and supported the ABC staff nationwide in 2007-2008, on behalf of SUPPORT PARTNERS and APPLE Australia. She has since assisted Disney Pictures, MTV, SBS, 7, 9, TEN, FOXTEL, Fairfax Media, The Wiggles and Animal Logic. As a broadcast trainer, she also worked for DIGISTOR from 2013 to 2015. Besides broadcast, her background is in media arts, and she has over 20 years of teaching experience in universities and film schools in France, Germany and Australia.

Is Spot Training only for broadcast professionals?

Heavens no. Cathy trains students of all ages - who win awards!
She is an award-winning media-artist herself, an academic since 1989 and a broadcast boffin.



PERSONAL TRAINING
A film-making career begins...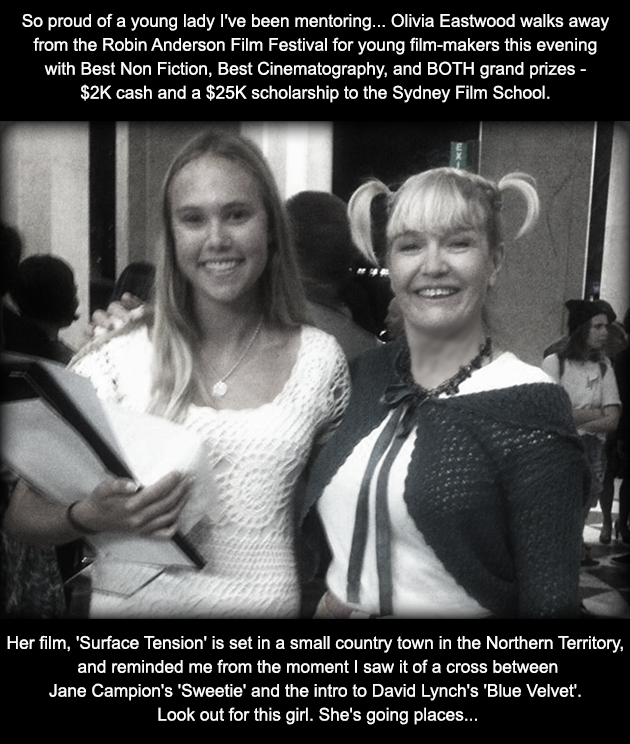 Click play below to view a typical classroom situation...


SO DO YOU WANT TO LEARN MORE?
Then book a Consultation, Masterclass or 'Training-Wheel' Session
But first, drop me a line about what you need to know and achieve.